Load packages
This analysis was run using isoreader version 1.0.11 and isoprocessor version 0.5.5.
For use as a data processing template, please follow the Source link above, download the raw file and adapt as needed. Knitting for stand-alone data analysis works best to HTML rather than the in-package default html_vignette.
All code chunks that contain a critical step towards the final data (i.e. do more than visualization or a data summary) are marked with (*) in the header to make it easier to follow all key steps during interactive use.
Calibrate data
Add calibration information (*)
| | | |
| --- | --- | --- |
| acn1 | -29.53 | 71.09 |
| act1 | -29.53 | 71.09 |
| pugel | -12.60 | 44.02 |
| EDTA2 | -40.38 | 41.09 |
Evaluate temporal drift
Look at changes in the drift standard over the course of the run: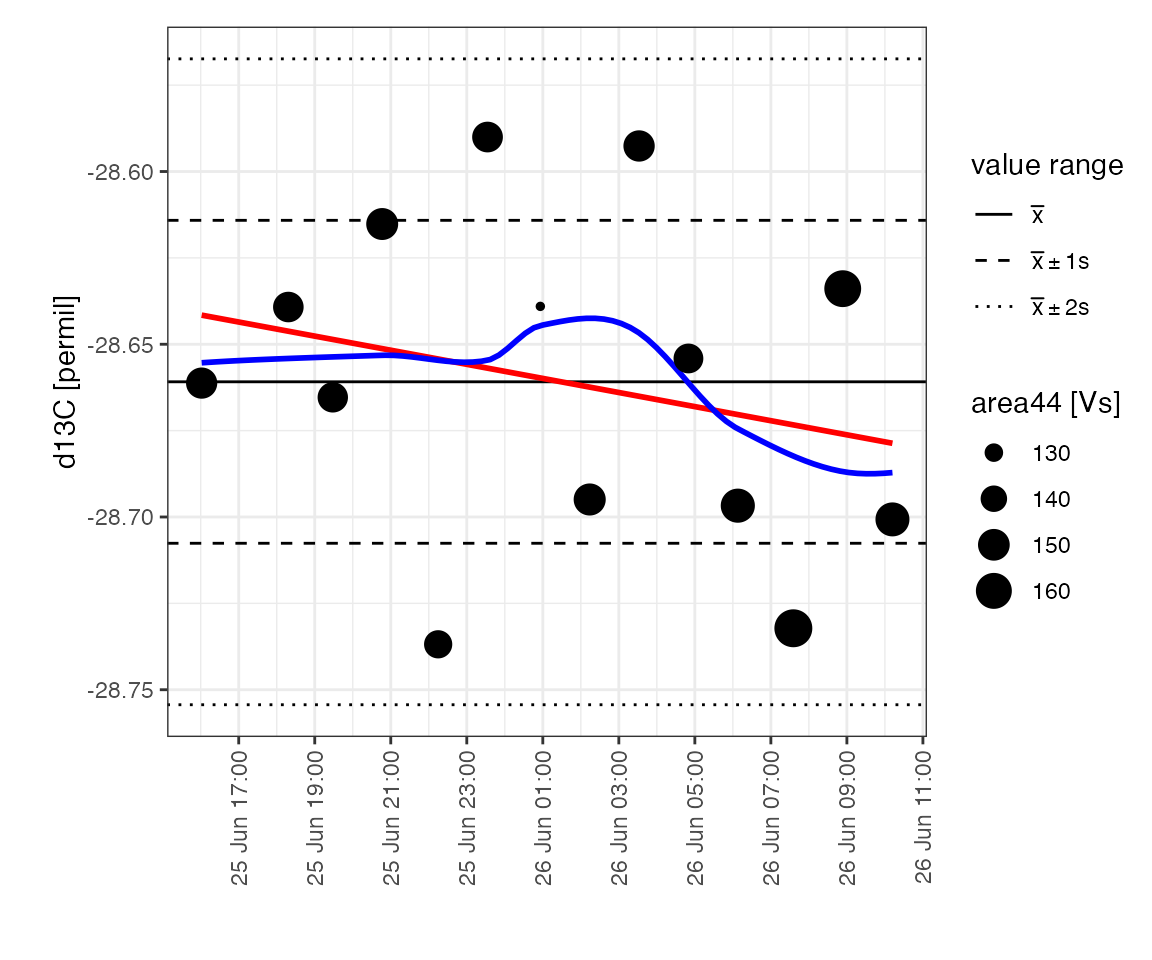 This looks like random scatter rather than any systematic drift but let's check with a linear regression to confirm: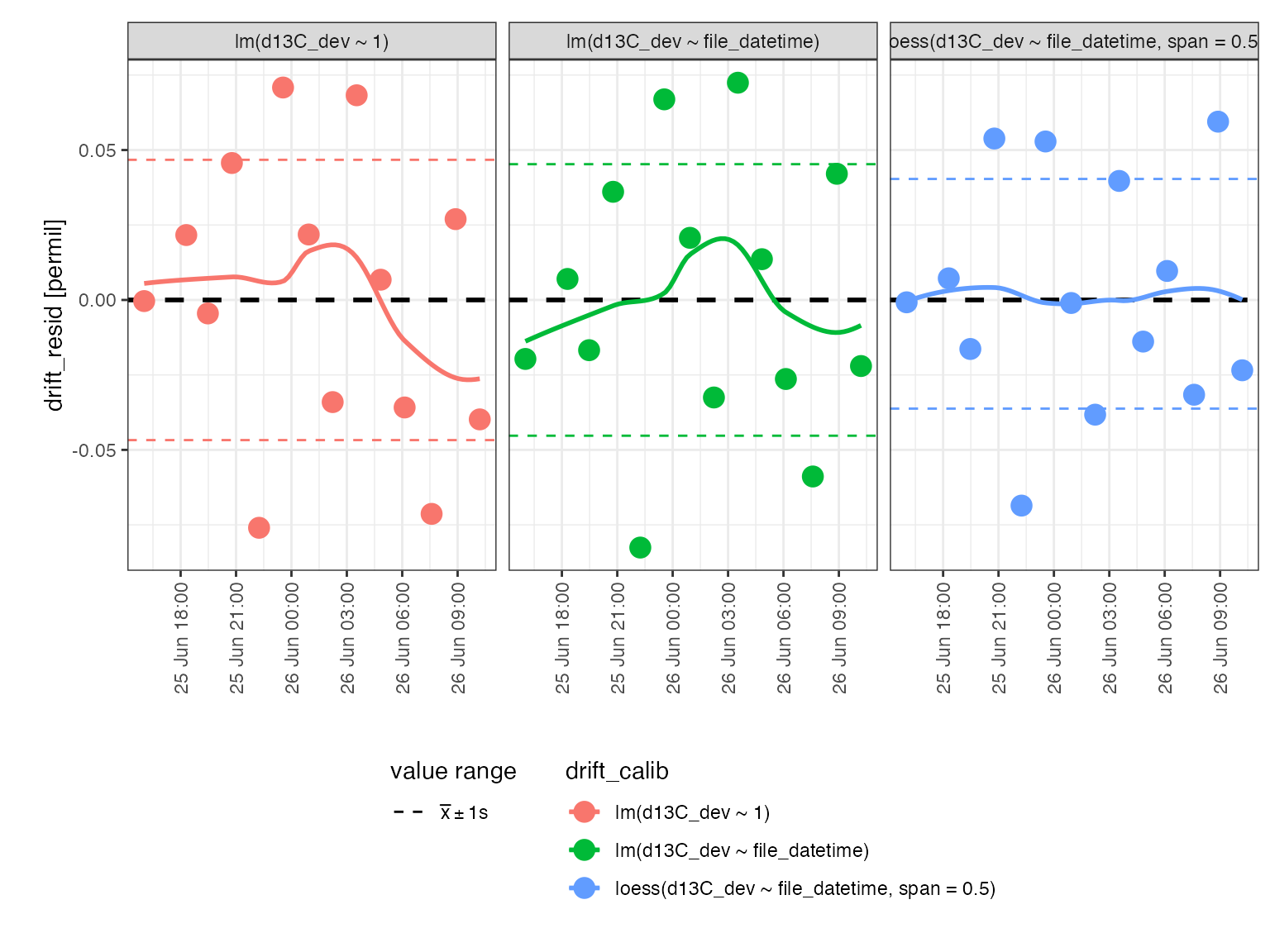 Although a local polynomial (loess) correction would improve the overall variation in the residuals, this improvement is minor (<0.01 permil) and it is not clear that this correction addresses any systemic trend. Therefore, no drift correction is applied.
Evaluate linearity (*)
Look at the response of the linearity standard and the range the samples are in: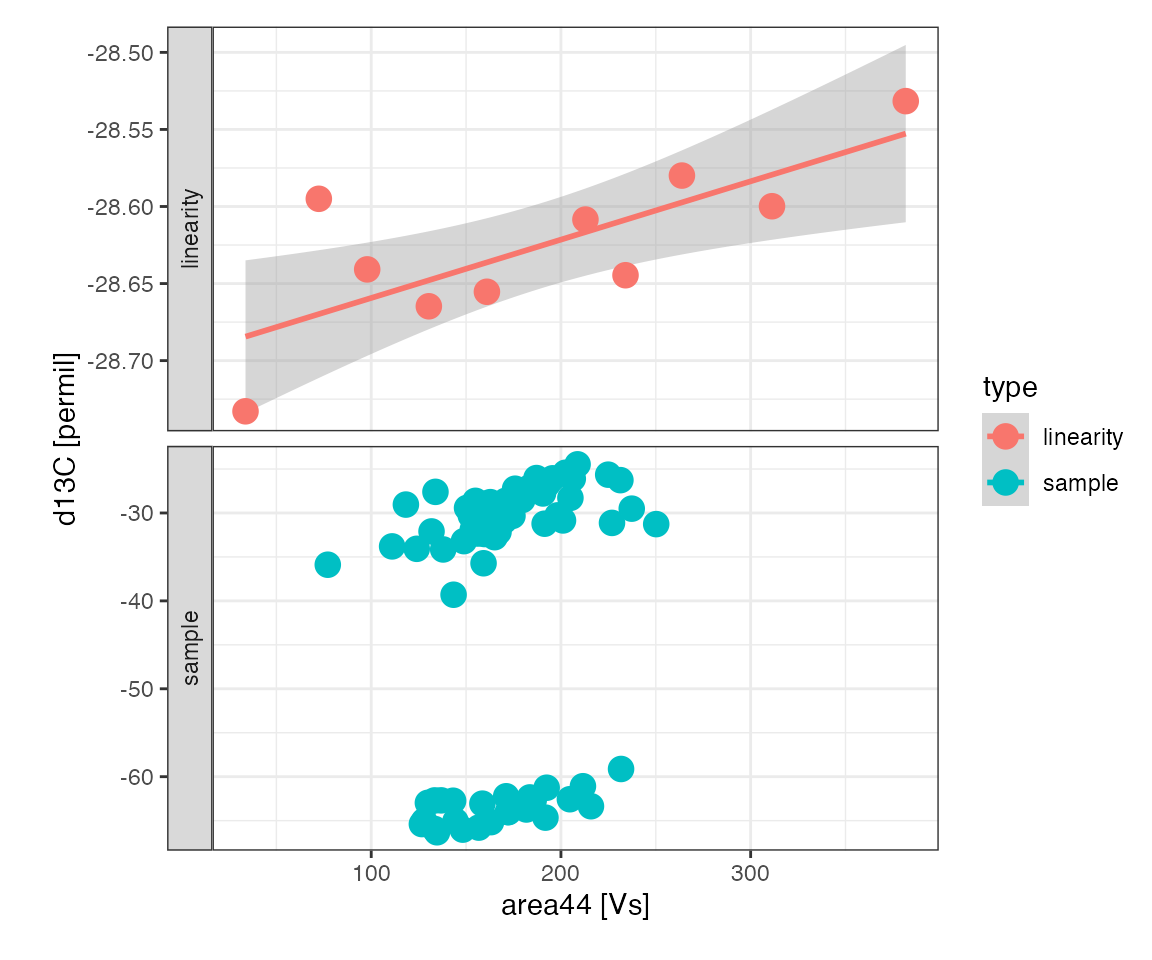 The linearity standard shows a systematic area-dependent effect on the measured isotopic composition that is likely to have a small effect on the sample isotopic compositions. In runs that include two isotopically different standards (2 point scale calibration) both across the entire linearity range, isotopic offset, discrimination, and linearity can all be evaluated in one joint multi-variate regression. However, this run included only one linearity standard which can be used to correct for linearity prior to offset and discrimination corrections.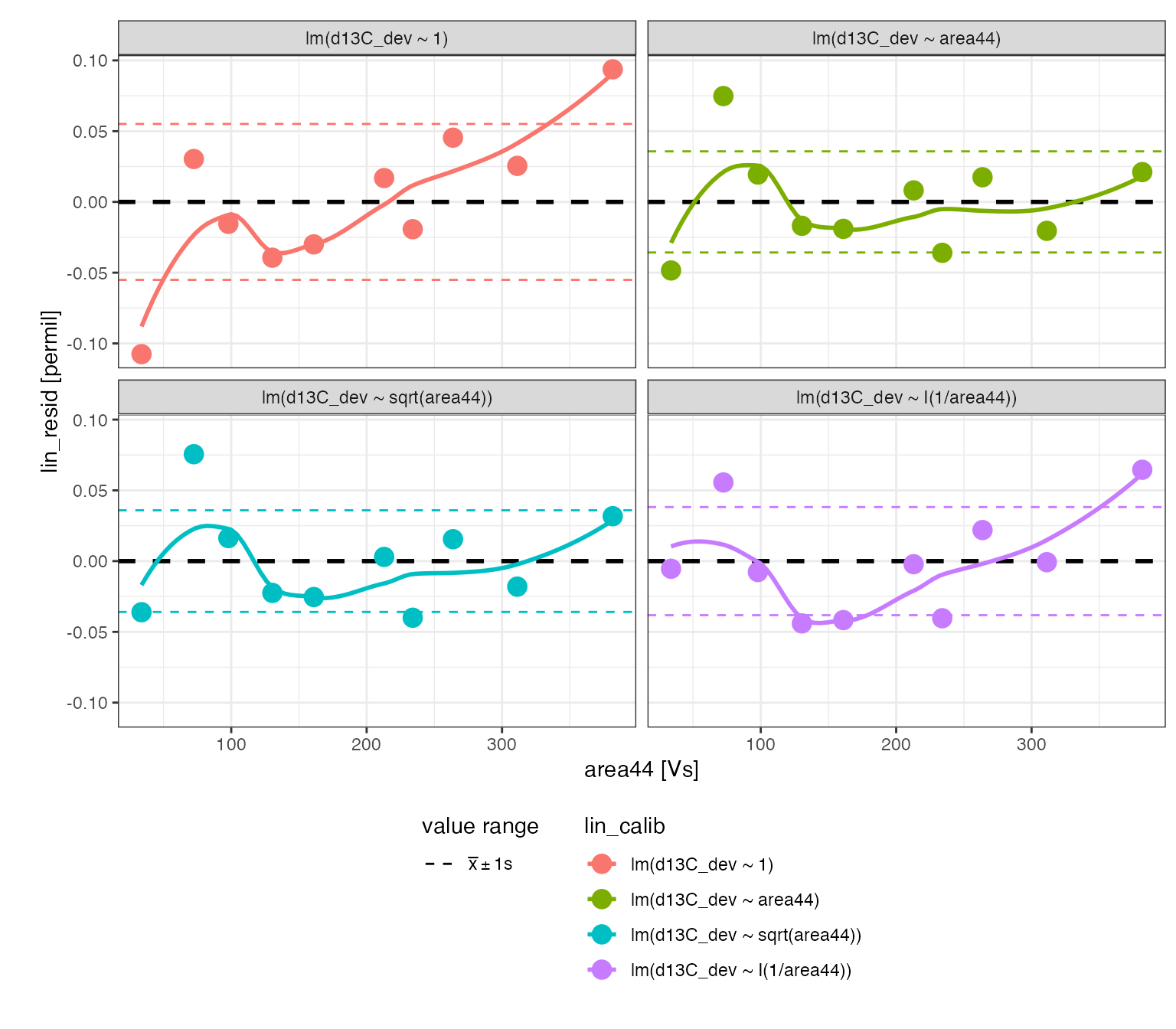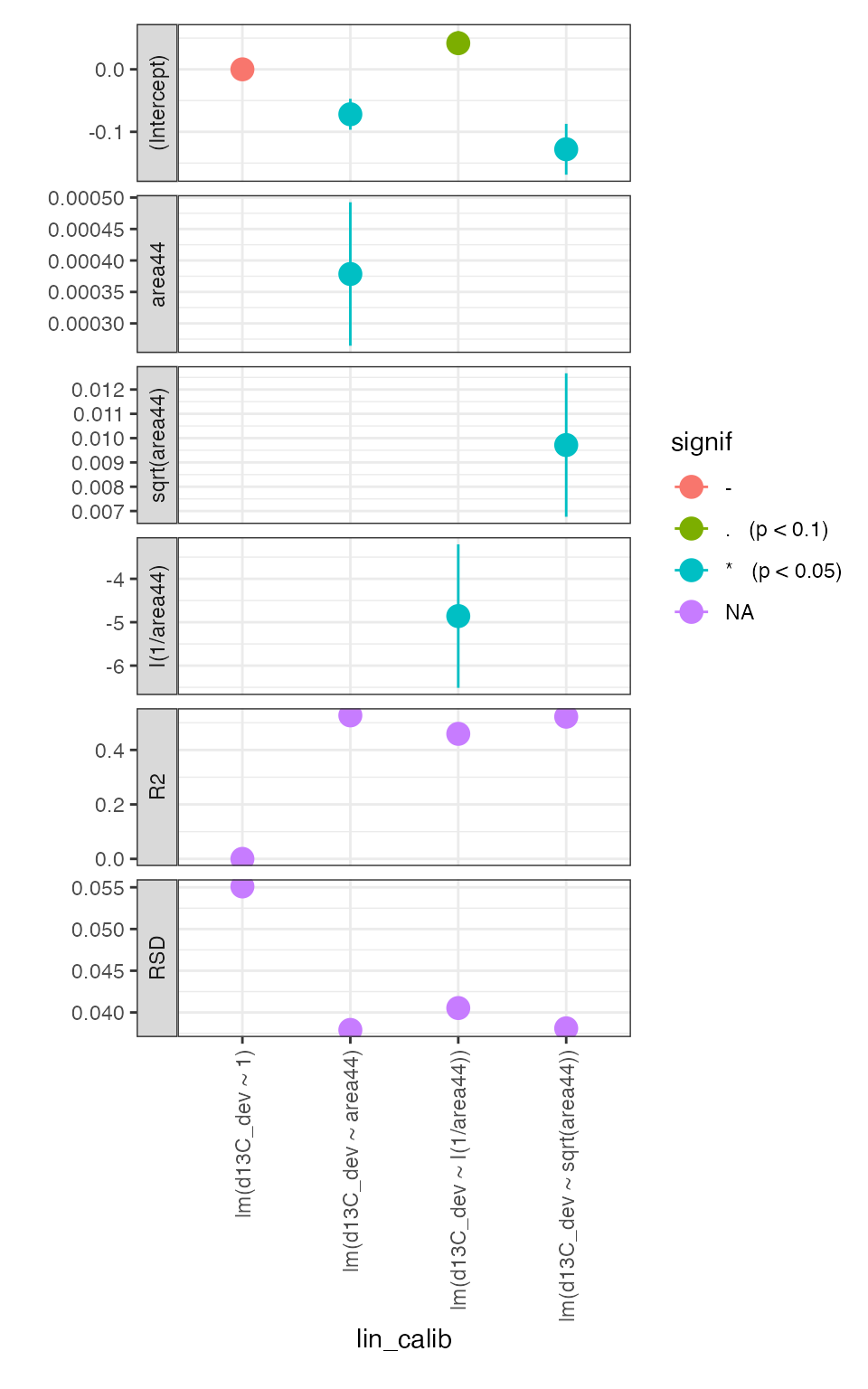 It is clear that there is a small (~0.02 permil improvement in the residual) but significant (p < 0.05) linearity effect that could be reasonably corrected with any of the assessed area dependences. However, we will use the ~ area44 correction because it explains more of the variation in the signal range that the samples fall into (~ 100-250 Vs) as can be seen in the residuals plot.
Check linearity correction
Check the improvement in standard deviation of the linearity standard: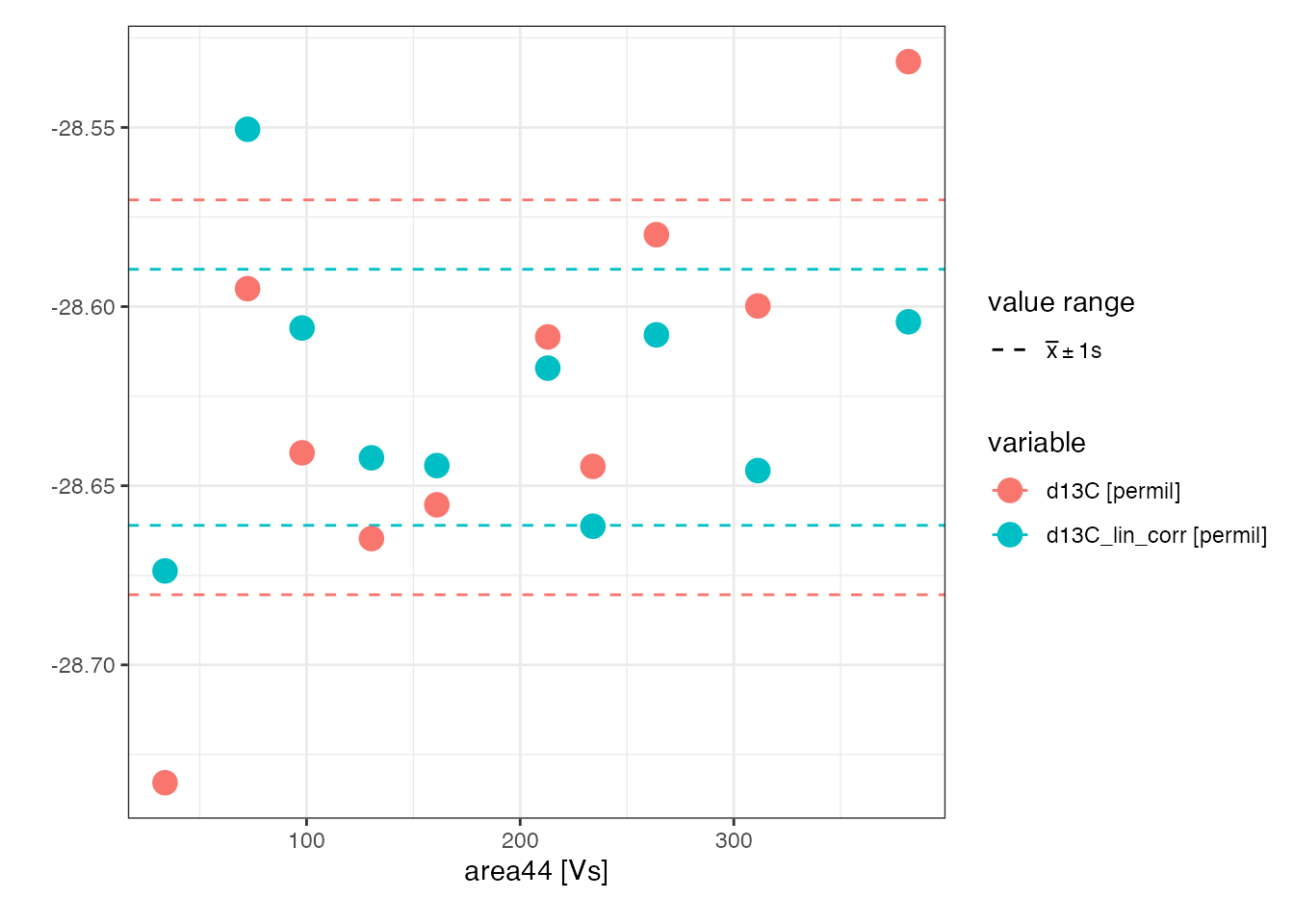 Evaluate isotopic scaling (*)
Look at the linearity corrected isotopic measurement of the two discrimnation standardds relative to their known isotopic value: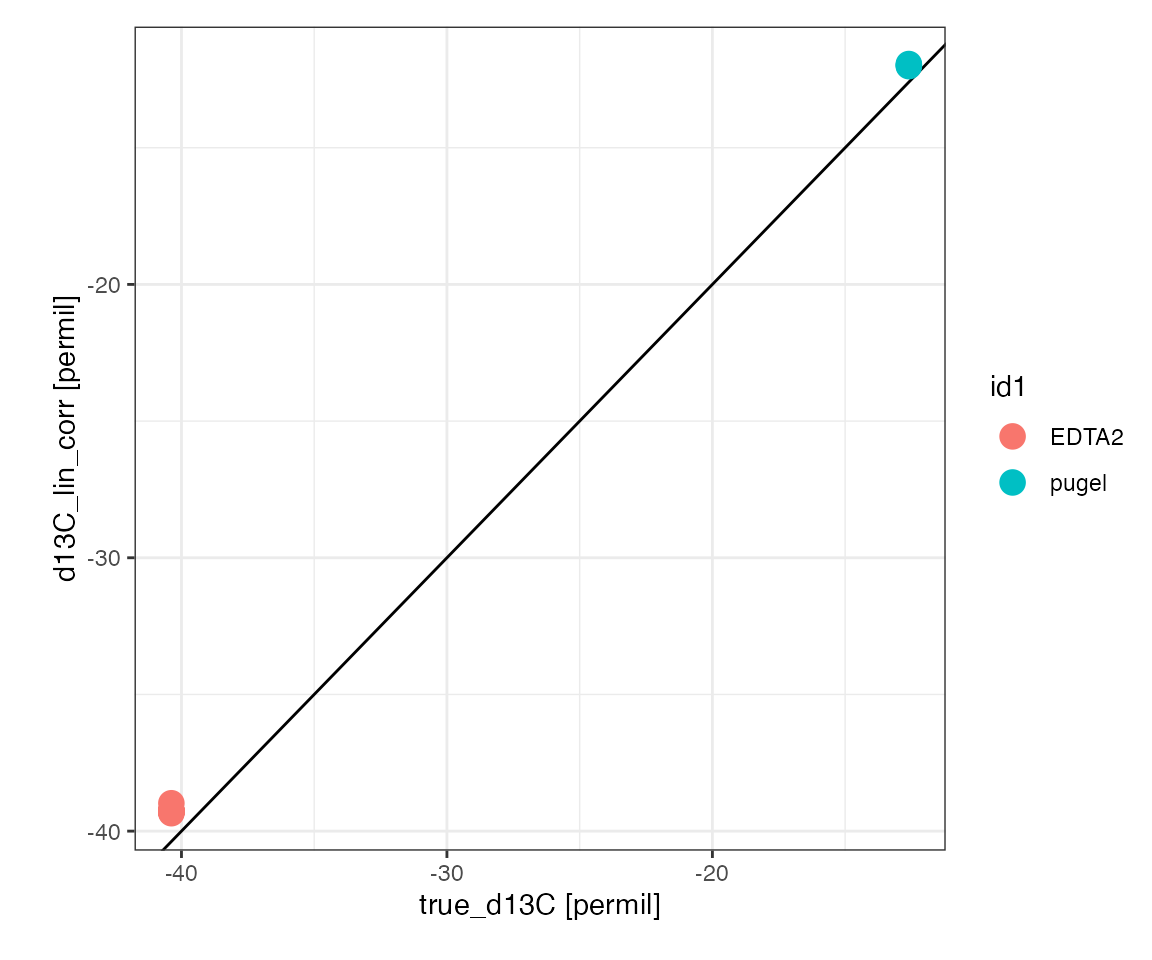 Correct for isotopic scale contraction (discrimination) and offset: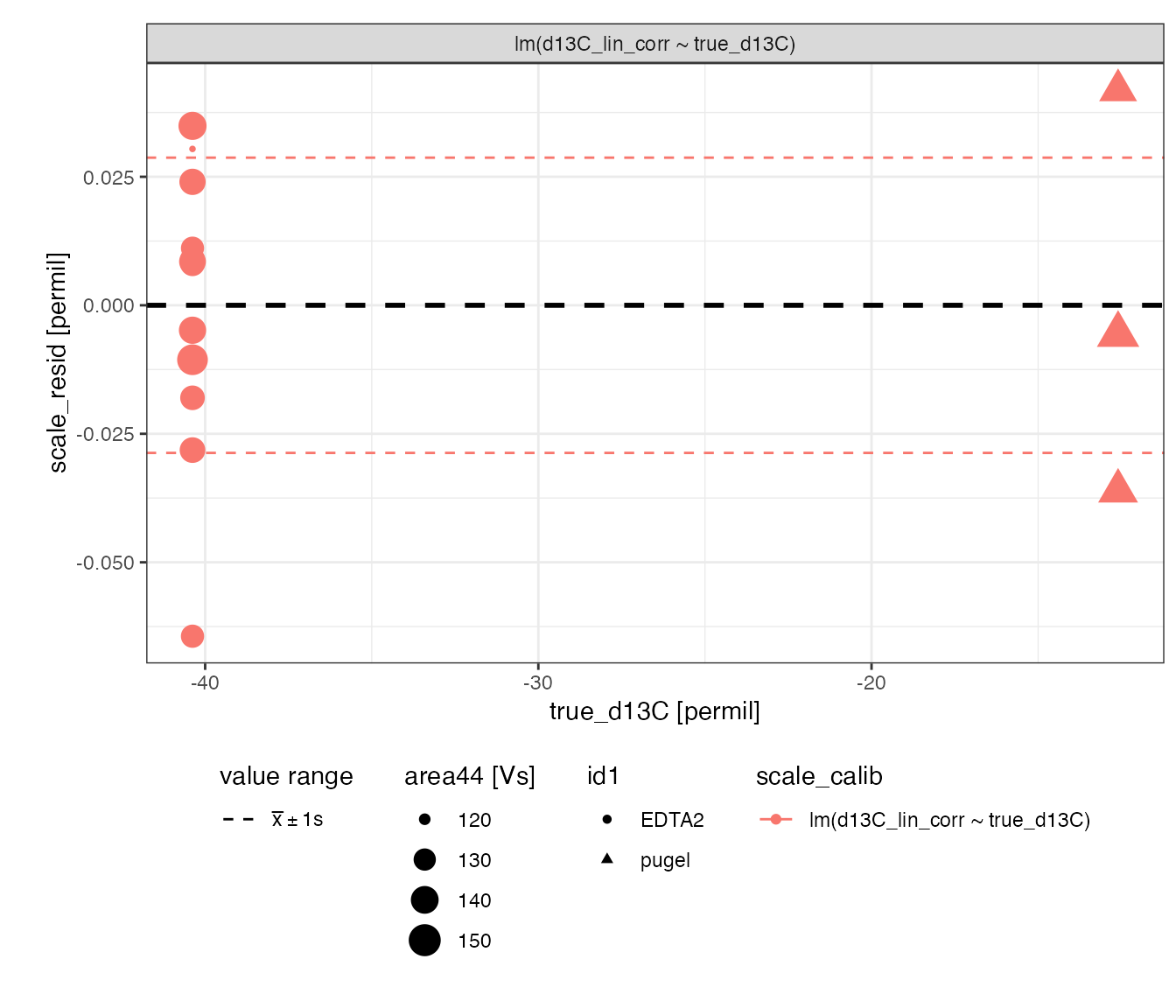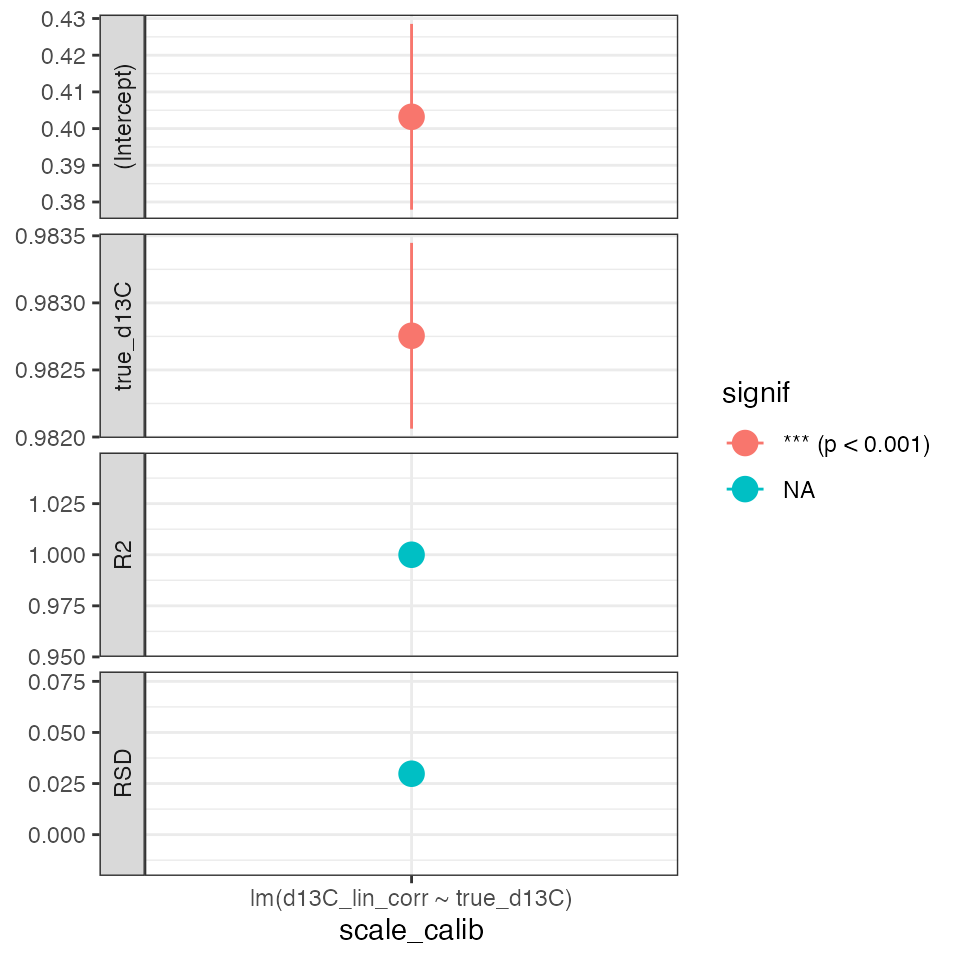 Apply scale correction (*)
| | | | | | |
| --- | --- | --- | --- | --- | --- |
| lm(d13C_lin_corr ~ true_d13C) | 15 | true_d13C_pred | permil | -40.45 | -12.56 |
Evaluate data
Accuracy & Precision
For this run, use the linearity standard for a very conservative accuracy and precision standard.
Final
Final data processing and visualization usually depends on the type of data and the metadata available for contextualization (e.g. core depth, source organism, age, etc.). The relevant metadata can be added easily with iso_add_file_info() during the initial data load / file info procesing. Alternatively, just call iso_add_file_info() again at this later point or use dplyr's left_join directly.